El Presidente Reveals 2019 Release Date For Tropico 6 and Steam-Beta in Autumn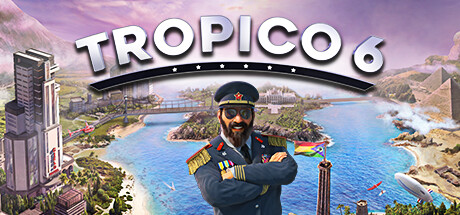 More details:
English Version
German Version
KALYPSO HIGHLIGHTS 06/08/2018 - 10/08/2018
Hello everyone, it's time for this week's Kalypso Update!
Sudden Strike 4
Sudden Strike 4 DLC: Finland - Winter Storm will be released on 31st August for PlayStation 4!
Offering two new mini-campaigns and six missions, the DLC faithfully recreates some of the war's most important conflicts between the Finnish and Soviet forces. In the Soviet campaign, players will attempt to capture the village of Suomussalmi, protect the railway to Murmansk against a German-Finnish offensive and break through the Finnish defensive lines during the Vyborg Offensive. In the Finnish campaign, you must retake and hold the village of Suomussalmi while crushing Soviet reinforcements, seize back the Lähde sector and hold the final defense line in the Battle of Tali-Ihantala.

Alongside the new campaigns, Finland – Winter Storm also introduces three new doctrine commanders to choose from; artillery expert Vilho Petter Nenonen, tank general Ruben Lagus and renowned general Karl Lennart Oesch, all of which introduce new strategic options for tackling this latest set of challenges. You'll also have 19 new vehicles to deploy, including new rescue vehicles, the Russian KV-1 and BT-7M, and the Finnish Stug III G and Flak 36.

Shadows: Awakening
Time to get your ticket to the Shadow Realm!
You can now pre-order Shadows: Awakening for PlayStation 4 on the PlayStation Store!

EN-GB: https://store.playstation.com/en-gb/...0000SAPOBUNDLE
EN-US: https://store.playstation.com/en-us/...ADOWSAWAKENING

Railway Empire
We've also got a little teaser for the upcoming Railway Empire DLC heading your way:
Do not leave you luggage unattended!
Warhammer 40K: Mechanicus
Hail to the Omnissiah! The Emperor Protects!
Pre-orders for Warhammer 40,000: Mechanicus have started, and 15th November 2018 is the date Warhammer 40K: Mechanicus releases worldwide.
https://store.steampowered.com/…/War...00_Mechanicus/

Details of the 'Omnissiah Edition'
Pre-order Warhammer 40,000: Mechanicus Omnissiah Edition now and get the full game on release plus:

Bestellt nun die Warhammer 40,000: Mechanicus 'Omnissiah Edition' zum Vorteilspreis (10% Rabatt) vor und erhaltet zur mit der Veröffentlichung zusätzlich zum Spiel folgende Boni:
The atmospheric soundtrack, featuring the highly-acclaimed music of Mechanicus
The stunning digital artbook containing an array of new and previously unseen concept illustrations and art from the development of the game
Enhance your close-quarters arsenal with the hard-hitting power of the Arc Scourge.
__________________________________________________ __________________________________________________ ______________________________________
German version
Hallo allerseits, es ist Zeit für das Kalypso-Update mit den Highlights der Woche!
Sudden Strike 4
Sudden Strike 4 DLC "Finland – Winter Storm" erscheint am 31.08. auf PlayStation 4!
Mit zwei neuen Kampagnen und sechs Missionen bringt Finland – Winter Storm einige der wichtigsten Konflikte zwischen den Russischen und Finnischen Truppen ins Spiel. In der sowjetischen Kampagne erobern Spieler die Ortschaft Suomussalmi, schützen die Eisenbahn nach Murmansk gegen eine deutsch-finnische Offensive und durchbrechen die finnischen Verteidigungslinien in der Vyborg Offensive. In der finnischen Kampagne muss bis zum Höhepunkt bei der Schlacht von Tali-Ihantala die Ortschaft Suomussalmi zurückerobert, die sowjetischen Verstärkungen zerschlagen und der verlorene Teil des Lähde-Sektors eingenommen werden.
Neben den neuen Kampagnen beinhaltet Sudden Strike 4: Finland – Winter Storm auch drei neue Kommandeure. Mit Ruben Lagus, Vilho Petter Nenonen und Lennart Oesch wird das Arsenal der Spieler um einige der bedeutendsten, finnischen Generäle und Strategen ihrer Zeit ergänzt.
Zur Bewältigung der neusten Herausforderungen liefert das DLC weiterhin 19 brandneue Fahrzeuge, darunter der russische KV-1 und BT-7M sowie die finnische Stug III G und Flak 36.
ypso-übernimmt-alle-marken-der-legendären-pyro-studios
Shadows: Awakening
Es ist an der Zeit, euch ein Ticket für eine Reise in die Schatten zu beschaffen!
Denn ab sofort könnt ihr die PS4-Version von Shadows: Awakening auch im PlayStation Store vorbestellen:

https://store.playstation.com/de-de/...0000SAPOBUNDLE

Railway Empire
Hier ein kleiner Vorgeschmack auf das bald kommende Railway Empire DLC: Great Lakes:
Bitte lassen Sie Ihr Gepäck nicht unbeaufsichtigt!
Warhammer 40K: Mechanicus
Gepriesen sei der Maschinengott! Der Imperator beschützt!
Warhammer 40K: Mechanicus kann nun auch auf Steam vorbestellt werden. Am 15. November 2018 wird Warhammer 40K: Mechanicus weltweit erscheinen.
https://store.steampowered.com/…/War...00_Mechanicus/

Mehr Details zu der "Omnissiah"-Edition
Bestellt nun die Warhammer 40,000: Mechanicus 'Omnissiah Edition' zum Vorteilspreis (10% Rabatt) vor und erhaltet zur mit der Veröffentlichung zusätzlich zum Spiel folgende Boni:
Den digitalen Soundtrack zu Warhammer 40K: Mechanicus
Das digitale Artbook mit einer Vielzahl von neuen und unveröffentlichten Konzeptzeichnung aus der Entwicklung des Spiels.
Erweitert euer Arsenal an Nahkampfwaffen um die geballte Stärke der Arc Scourge.
Please log in to your account to view your subscribed posts.
Directory

Topics

Posts

Last Post

Kalypso

General discussion about Kalypso Media games.
Allgemeine Fragen zu Kalypso Media.

Topics: 1 Posts: 8

1
8

Kalypso Media News
Aktuelle Meldungen zu Kalypso Media

Topics: 11 Posts: 12

11
12

Allgemeines Support Forum zu den Kalypso Media Produkten. Bitte nur Beiträge schreiben, wenn es zum gesuchten Spiel kein eigenes Forum gibt!
General Support forum for Kalypso Media products. Use only if there is no own game forum for the requested product!

Topics: 8 Posts: 20

8
20

Games

Sub-Forums:

Choo-Choo!

Sub-Forums:

El Presidente's Hideout/ El Presidentes Zuflucht

Sub-Forums:

The Ultimate Evil Awaits!/Das Ultimative Böse lauert!

Sub-Forums:

Windows/Linux/Mac/PlayStation4 Release: 11th of August 2017 Veröffentlichung: 11. August 2017

Sub-Forums:

Sub-Forums:

EN: This Subforum is about all Kalypso-titles that will not be forgotten. DE: Dieses Unterforum ist für alle Kalypso-Titel, die nie vergessen werden sollen!

Topics: 4 Posts: 4

4
4

Sub-Forums:

Community

Deusch/German

Topics: 2 Posts: 2

2
2

International

Topics: 1 Posts: 4

1
4

Hello!!

by Guest

05-17-2018, 10:12 AM

Like the namesake, this is an archive for Topics, that should not be forgotten.

Topics: 1 Posts: 1

1
1
---
There are currently 338 users online. 0 members and 338 guests.
Most users ever online was 2,676 at 07:28 PM on 07-23-2018.
kalypso media :: forum Statistics
---
Topics: 241 Posts: 405 Members: 153 Active Members: 25
---



Kalypso Media und Gaming Minds veröffentlichen heute mit The Great Lakes den neuesten DLC für die beliebte Eisenbahn-Sim Railway...

Yesterday, 01:11 PM

The Great Lakes DLC expansion out now for PC, PlayStation®4 and Xbox One

Rail tycoons, its time to expand your empire...

Yesterday, 01:07 PM
Welcome to your vBulletin forum! You can click "Edit Site" above for site administration options.
To edit or remove this module, click "edit site", then "edit page".